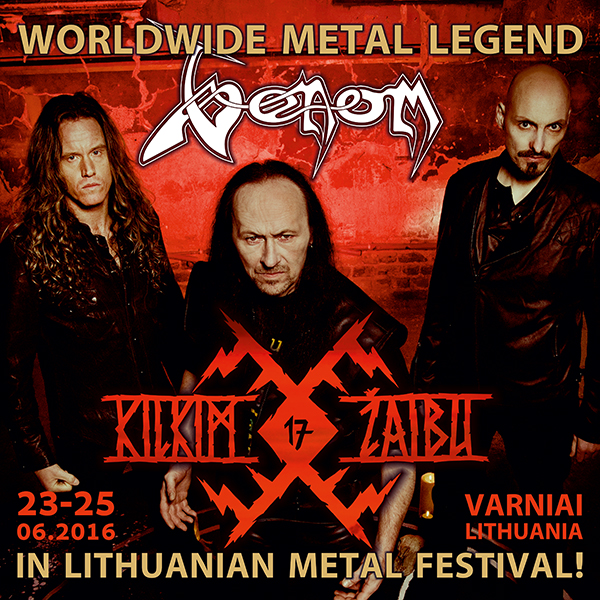 Ladies and gentlemen… from the very depths of Hell… VENOM !!!
With great honour we present you KILKIM ŽAIBU XVII headliner band - original inventors and founders of Black Metal – VENOM from United Kingdom!
Formed back in 1979 in Newcastle, VENOM have had a huge influence on extreme music, especially the Thrash and Black Metal scenes, with bands such as Metallica, Slayer & Megadeth regularly acknowledging their historical importance and weight.
With the title of their second album ('Black Metal', 1982) now being used to describe an entire musical genre, it's clear that VENOM's ground-breaking blend of raw heavy metal & punk, complete with down-to-earth humour and lyrics inspired by Satan and darker forces in general, singles them out as one of metal's most legendary and notorious acts.
VENOM will headline KILKIM ŽAIBU at their very first show in Baltic States on June 25!
KILKIM ŽAIBU festival is set to take place June 23-25, 2016 in Varniai, Lithuania on Summer Solstice evening by the spectacular shore of Lukstas lake.
This is biggest Baltic metal festival and already 17th years has been uniting the most extreme forms of metal, with archaic folklore and the ethnic culture of Baltic. Fans can take part in ancient games, swimming and other sport activities, horse rides, pagan songs and dances by bonfire until the morning light.
In addition there are confirmed such great and exclusive bands – all of them will make their festival debut shows!
SCHIRENC PLAYS PUNGENT STENCH - Austria
THE RUINS OF BEVERAST - Germany
EREB ALTOR - Sweden
SATURNALIA TEMPLE - Sweden
SECTORIAL - Ukraine
SCYTHIAN - England
ROMUVOS - Lithuania / Israel
ESCHATOS – Latvia
More bands will be announced!
Right now ticket for 3 days costs € 30
Family ticket price € 55 (two adults and all children)
Prices with time will increase!